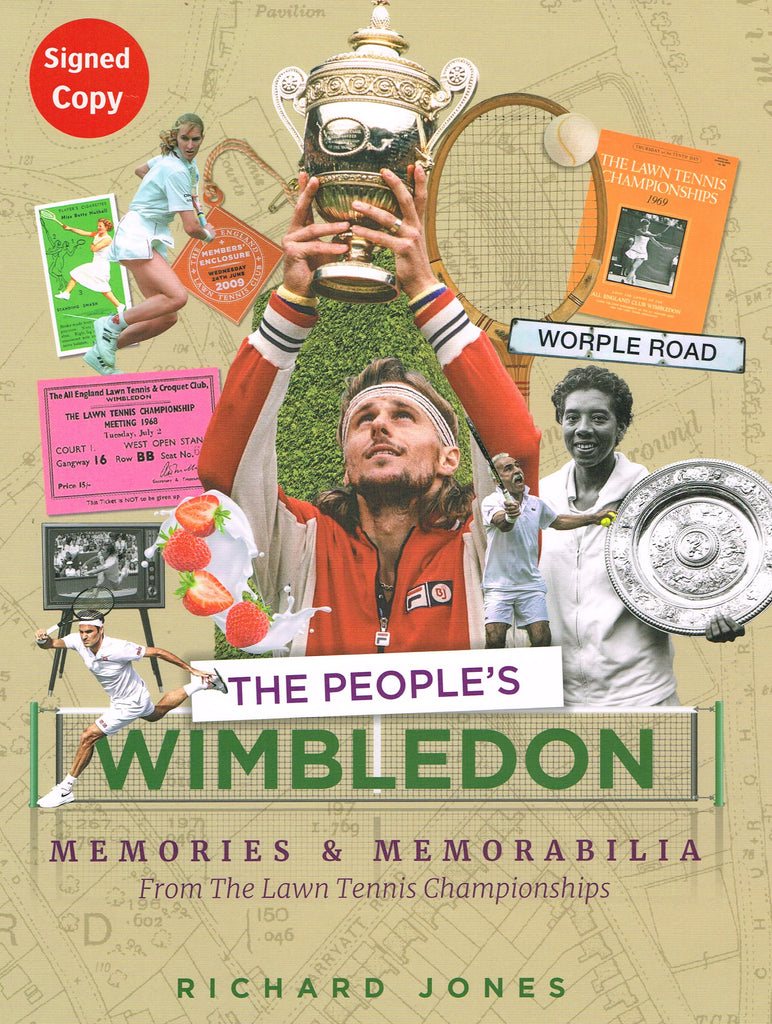 The People's Wimbledon by Richard Jones & Amisha Savani
 THE PERFECT GIFT FOR THE TENNIS LOVER!
 WHAT PURCHASERS HAVE SAID:
''The People's Wimbledon is a fantastic book recommended for anybody interested, in not only tennis but the history of the tournament. The lovely sized hardback, is full of memories and images from 1877 to the present day, submitted from those involved in the tournament and the fans who have visited, and experienced the amazing atmosphere in the delightful grounds. A wonderful book full of beautiful memorabilia of this magnificent tournament is a must for any tennis fan."
"Absolutely brilliant!"
"Fantastic book"
"My sister received The People's Wimbledon yesterday and she is made up!"
"The quality of the pictures is excellent and the designer has made it a pictorial pleasure. I'm sure it will fascinate all of us (and we number millions worldwide) for whom Wimbledon is an annual delight." JOHN BARRETT
THE PEOPLE'S WIMBLEDON is a beautifully produced 304 page hardback book (with dustjacket) of Memories and Memorabilia from the Lawn Tennis Championships, with contributions from tennis fans, broadcasters, journalists, players and coaches and images from the Wimbledon Lawn Tennis Museum, along with 750 archive photographs and images of Wimbledon memorabilia and top players past and present. The Foreword is by IAN HEWITT, Chairman of the All England Lawn Tennis Club. POSTAL WEIGHT 2 kilograms

Our books are signed on the title page by author Richard Jones. PLEASE EMAIL US IF YOU WOULD LIKE A PERSONAL DEDICATION AT NO EXTRA COST, OR IF YOU WOULD PREFER AN UNSIGNED COPY.
CONTRIBUTORS TO THE PEOPLE'S WIMBLEDON:

1901 'OUR LADY COMMISSIONER', London: Impressions of The Championships

1919 BLANCHE HILLYARD, Thorpe Satchville: Letter to Dorothea Lambert Chambers
1922 JESSICA BOUSFIELD, New York: A Visit to Wimbledon
1940 KATHLEEN CLAYDEN, Wandsworth: The Night Wimbledon was Bombed
1947 ANGELA MORTIMER, Wimbledon: A Champion's Persistence
1949 RUTH HARTGILL, Reigate: Memories of Wimbledon
1950 NICK DARBY, East Grinstead: Electric Excitement

1952 ANN ROBERTS, Ingatestone: My First Visit to Wimbledon
1952 BOBBY WILSON, Welwyn: Memories of Wimbledon
1952 BILLY KNIGHT, East Haddon: Fast Car to Wimbledon
1952 KEITH STEPHENS, Upminster: Felicisimo Ampon's Great Comeback
1954 FRANCES FUNNELL, Wimbledon Park: Remembering Rosewall
1956 PAUL EISENEGGER, Barnet: My First Visit to Wimbledon
1957 CHRISTINE TRUMAN, Aldeburgh: Dreaming of Wimbledon
1958 GEOFFREY GAMMON, Surbiton: My First Wimbledon
1959 DAVID ORCHARD, High Wycombe: My First Visit to Wimbledon
1959 SUSAN MORGAN THOMAS, Tunbridge Wells: Seven Decades of Wimbledon
1960 EDWARD TIDY, Wimbledon Park: Early Days at Wimbledon

1965 JEREMY HUDSON, Raynes Park: My First Visit to Wimbledon
1965 JULIE HELDMAN, Santa Monica: My Wimbledon Debut
1965 BERNARD FULLERTON, Bringsty: My First Visit to Wimbledon
1965 ELSIE ROSAM, Dorking: My First Attempt at Getting into a Final Saturday
1967 IAN HEWITT, London: A Centre Court Memory
1967 PETER GREGORY, Northwick Park: My First Visit to Wimbledon
1968 TIM ANDREWS, Brighton: Lew Hoad - My Hero
1968 COLIN TRIPLOW, New Ash Green: Superman's New Weapon
1968 RAY MOORE, Palm Desert: Wimbledon '68
1968 PETER WOODMAN, Hatch End: My First Wimbledon
1969 MARIAN BOUNDY, Finchley: Memories of Playing at Wimbledon
1969 GEOFF MASTERS, Queensland: My Love for this Place
1970 JOHN INVERDALE, Kingston Upon Thames: In the Summertime

1970 NORMAN COHEN, Stanmore: The Most Beautiful Place in the World
1970 JOHN NICHOLSON, Motspur Park: Wightman Cup at Wimbledon
1971 ROBERT & JOAN GRAHAM, Bury: Wimbledon '71
1972 STEVEN LYNCH, Staines: Deep and Meaningful
1972 PATRICIA ARTHUR, Prenton: My First Wimbledon
1972 JANE WILTSHIRE, Camberley: My First Visit to Wimbledon
1973 ROGER MILNE, Pulborough: To Somerset Road, by Coach
1973 JANE PORTNELL, Ingleton: Tall, Dark and Handsome
1973 JOHN LLOYD, Palm Beach: Majestic Wimbledon
1974 WILL PARKER, Fleet: The Maestro Fights Back
1975 SARAH BRIDGLAND, High Wycombe: Meeting Arthur Ashe
1975 BOB EVERITT, Bilston: Early Memories of Wimbledon
1976 CHRIS BOWERS, Ringmer: Memories of Wimbledon
1977 ONNY PARUN, New Zealand: The Helen Wills Saga
1977 JOHN EVANS, Rowley Regis: My Love Affair with Wimbledon
1978 RICHARD HESS, Palos Verdes: My First Wimbledon
1980 CHRIS FOULKES, Coventry: My First Trip to Wimbledon

1980 AUDREY GREEN, Baldock: We are Here!
1981 TERRY BRADY, Hartford: It Had Changed So Much, Yet Not at All
1982 KANI BAWA, Nottingham: In the Free Standing Room
1982 JULIA FREEMAN, Wargrave: What a Small World!
1984 DAVID RUTHERFORD, Cromlix: A Wimbledon Odyssey
1985 AMISHA SAVANI, London: My First Wimbledon
1985 STUART PESKETT, Feltham: A Different World
1986 JIM PUHL, Eau Claire: Wimbledon Tennis Story
1986 GEORGE GRIME, Ham: In the Hot Seat
1987 MICHAEL STONE, Battersea: My First Wimbledon
1987 DOREEN PRANGELL, Putney: Jimmy's Great Comeback
1987 JOHN ROWLINSON, Lambourn: No Beginner's Luck
1987 DAVID RUTHERFORD, Cromlix: A Wimbledon Odyssey - Part 2
1989 JULIA KILBY, Hove: My First Wimbledon
1991 COLIN LELLIOTT, West Worthing: Flowers for Martina

1992 SUSAN HALLIDAY, Felixstowe: Memories of Wimbledon
1993 ROBBIE WILLIAMS, Moscow: Miles MacLagan on Court Five
1993 CHRISTINA SAN, New Malden: Steffi's Flower Girl
1994 LOUISE MANSERGH, Camberley: My First Wimbledon
1996 NICK McCARVEL, New York: Breakfast at Wimbledon
1997 FINLAY MacKINNON, Outer Hebrides: That Magical Part of London that is SW19
1999 MARGO FITZSIMONS, Bournemouth: A Coach Trip to Wimbledon
2000 JAMES REED, Wimbledon: My First Wimbledon

2001 DAVOR MARGETIC, Zagreb: Croatia's Golden Year
2005 SHEILA CHAMBERS, Crosby: My First Visit to Wimbledon
2005 DENISE PADDOCK, Shrewsbury: A Special Birthday in SW19
2005 JAMIE THOMAS, Basingstoke: Hammond, Redgrave, Federer, Murray
2006 TIM EDSON, Leicester: Caught on Camera
2008 BENDOU ZHANG, Shanghai: Wimbledon at Last
2008 RICHARD HILLWAY, Colorado Springs: No Place Like Wimbledon
2009 APPHIA & DANIEL PARSONS, Dulwich: Wimbledon Days
2009 JEFF ANTHONY, West Hartford: Memories That Will Last a Lifetime
2012 RICHARD JONES, Wimbledon: A People's Wimbledon

2012 PAUL STRUDWICK, Brentwood: Finals Day
2013 CARLOS COSTA, Portugal: The Physio's View
2013 SIMON ETHERIDGE, Bishop's Stortford: Heaven on Earth
2014 AMY LUNDY, Westport: Catching the Bug
2015 BRUCE RYAN, Sydney: Wimbledon Recollections
2015 ANTONIO DEMASI, Meriden: A Special Place
2016 RAPHAEL IBERG, Lausanne: Lleyton, Thanasi and Nick
2016 SARITA SHARMA, Surbiton: Alisha's Big Day
2017 SANDRA ROBERTS, Wimbledon: Caring for Bethanie
2017 ANNE COMERFORD, Wexford: The Best Birthday Present Ever
2018 OLIVIA LANGINGER, London: A Dream Come True
2019 JULIAN HARDING, Worcester Park: Our Illustrious Neighbour
2019 DAVID BROWN, Farrington Gurney: Wimbledon at Last!
2019 MARK A. KUHN, Charles City: People's Day at The Championships
2019 CHRIS SCHRUCKMAYR, Asheville: Wimbledon Stopover
2019 OMAR POPAL, London: The Boy Who Tossed the Coin
2019 ANDREW FULCHER, Sutton: The Great Final
2019 GORDON FORBES, Burgersdorp: The Last Word
OTHER CONTRIBUTORS NAMED IN THE BOOK: John BARRETT (Wimbledon), Graeme BAXTER (Rancho Mirage), John BEDDINGTON (Checkendon), Don BRENNER, Graham BUDD, Francis Russell BURROW, Emmy CAPORALE, Derek CATE (Shrewsbury), Adam CHADWICK (London), Alan CHALMERS, Ben CHATFIELD, Jeanne CHERRY (Santa Monica), Gianni CLERICI, Michael COLE (Beckenham), Suzie COLE (Wimbledon), Martin CORRIE, Barry DAVIES (Barnes), Karen DERVISH (Wimbledon), Geoffrey DIX, Charles ELSTUB (Wimbledon), Richard EVANS (Delray Beach), John FEAVER (Wimbledon Park), Paul FENDRICH, Sarah FRANDSEN, Honor GODFREY (Putney), Chris GORRINGE (Hinchley Wood), Mike HANN (Wimbledon), Jenny HIGGS (Reigate), Myra HUNTER (Riddrie), Keith INCH (Dartmouth), John JAMES, Aubrey JONES (Marlow), Christine JONES (Chessington), Ian C. KING (Battersea), Ramesh KRISHNAN, Alan LITTLE (Bexleyheath), Malin LUNDIN, Robert McNICOL (Wimbledon), Bir MAHAJAN, Al MAWANI (Canada), Luis MORRIS (Basingstoke), Bernard NEAL (Cheltenham), Annabelle NG (London), David NUTTALL (Highams Park), Olivier PEROTTE (London), Mary POPE (Cyprus), Kenneth REED (Ponteland), Anna RENTON, Peter RISDON, Peter ROBERTSON, Bert ROWLEY (Surbiton), Dorothy SCHOFIELD, Darren SHARWOOD (Shrewsbury), George SKINNER (Wimbledon), Anna SPENDER, Betty STOVE, Attila SZABO, Emma TRAHERNE (Wimbledon), Geoff WARD (Wimbledon), Peter WATSON (Scarborough), Ruth WESTON, Simon WHALE, Clare WOOD (Southfields), Jeremy WOODS (Merton) and Peter WRIGGLESWORTH (Ruislip).